Welcome to our Courses page

Learn to teach, be inspired

(Please see testimonials at bottom of page)
REIKI
The true nature of Reiki energy is that it works in harmony with you, in a spirit of loving co-operation and free flowing joy. Rather than taking over you, it merges  with you, melds with you, allowing your true gifts and potential to develop. 
Reiki has the ability to quicken any spiritual path you follow, meeting you where
you are.
We have been teaching traditional Reiki for over 20 yrs, in England and Spain, and continue to assess and improve our classes, teaching methods and the treatments we offer. This is an ongoing process that will continue always.
We also offer support to our students, and new teachers, offering many helpful resources. 
We provide a beautiful and calm  envionment to learn Reiki in, and to enjoy Rob's lovely Vegan lunches. 
Any of our Reiki students wishing to retake classes are very welcome, we charge €100.00 for this.
REIKI COURSES
Reiki 1 and Reiki 2  courses
No pre-requisite 

This is a 5 day practitioners course
After completing this course you will have the skills to practice professionally. 
You will be able to create a loving and protective environment to live in through manifesting positive energy. Send distance healing to people, animals, for your work and home life, enviromental projects and world crises.
Attract more happiness, opportunities, enjoy success in your new expansive self.
Shift trauma from people, homes and situations.
Enhance your communication and effectiveness in all interactions.
5 day course
This course most embodies the traditional way that Usui Sensei taught, allowing for a deep and broad spiritual practise.
Syllabus 
You will discover
• History of Reiki.
• Professional ethics.
• 5 Reiki principals, including chants in Japanese.
• Creating safe and sacred space
• Attunements to the traditional Reiki symbols.
• Learning and working with the symbols & their uses.
• Daily Meditations with many different focuses.
• Working with crystals.
• Daily healing exchanges using the traditional 
hand positions method and the
   3 pillars method
• Self healing.
• Working on unblocking our authentic self.
• How to heal the root cause of illness or disease, healing the past, present & future.
• Send distant healing to people, animals, the environment community and
   world crises
• Connecting & working with the elements in our workspace.
• Working with nature and Reiki.
• Treating different diseases & imbalances.
• Starting your own Reiki programs & clinical practise.
• Healing exchange using all the methods weve practised.
• Transfiguration meditation & blessing ceramony.
   
Study packs will be provided plus certificates on completion.
5 day course Euro 290.00 (accommodation from 55 Euro per night full board)

We are always happy to arrange classes to suit your needs: If there are a group of you and you have a specific date in mind, please contact us.

Please email or phone for availability, to book a place, or, if you would like any further information. reikiinspain@gmail.com

ANY PAST STUDENT MAY RETAKE A COURSE AT THE SAME LEVEL FOR €100.00.
Only students who have studied here will be eligible for this.
We run a free healing clinic once a week, students are always welcome to volunteer for this program.
––––––––––––––––––––––––––––––
Reiki Masters and Teacher – ('Shinpiden' Teacher of Mysteries)

Advanced Reiki Training
Pre-requisite: Reiki 2

This will allow you to pass Reiki on to others & teach.
When a student decides to become a Reiki Master, which is always a lovely and exciting time. Your higher selves or soul energies exist outside of time, so when you decide to take this class the spiritual preparation will have already begun. This will be of great benefit to you and those around you before you even begin the class. 
In Japanese the name for Reiki Master is Shinpiden, this means teacher of mysteries.
No matter how much experience we have as healers, there will always be a deeper level of consciousness to explore, so the mystery is never really solved.  
The path for this is both inviting and joyous, and will continue as long as you choose to be a seeker.

Pre-requisite: Reiki 2
Euro 390.00  (accommodation available from 55 Euro per night full board)
This is a 5 day course. A Study Pack will be provided, plus a certificate on completion.
Syllabus

Course includes:

• Creating a safe and sacred space
• Professional ethics.
• Attunements to the traditional and sacred Reiki Master symbols
• Symbol practice, meditation on the symbols
• How to attune other people to Reiki plus daily practise of this.
• Daily healing exchanges, 
• Deepening our practise in healing, removing the original cause of illness or disease
   in the physical and the light body in a safe way.
• Past life healing, Ancestral healing.
 • Psychic surgery
• Giving meditations & talks on Reiki.
• Chakra clearing
• How and what to teach in your Reiki classes
• Set up Reiki teaching programmes, for success in both creating new teachers, helping others with your own unique gifts.
• Connecting with nature, with the Earth with Reiki
• Retrieving our destiny.
• Finishing with a ceremony of blessing for the new Teachers.
What to expect
On completion of this course you will be able to pass on Reiki to others. Also, your healing abilities will have greatly increased.
I recommend that you practice attuning other people, friends, family, pets and even inanimate objects, such as teddy bears etc. It is also a good idea to get together with other Reiki Masters and practice attuning each other. 
Integrating spiritual practice into your body and cells
What to do with enlightening information we receive from all sorts of sources, books, workshops, summits, even facebook posts. 
Do we only nurture our minds with this information and feel we are evolving because we have more information? 
Or should we be finding ways to bring this from the rational brain into our heart chakra and all the cells of our body. To wake up the innate intelligence, to strengthen our spirit, to create lightness in our bodies, passion and wisdom.
To take new spiritual information to the deepest level possible, will help us evolve to a new level of consciousness.
This takes time and practice but is not difficult, when you feed something it will grow. Set your intention, plant the seed and then feed it.
 Allow enlightened information to drop from your brain into your heart chakra, this goes from the bottom of your throat to your perineum.
To evolve into a new level of consciousness we need this shift.
 Eventually and it does take time, to bring this into our everyday lives and activities.
 Everything we have all been through over the last few years, and I mean everyone, is about humanity moving forward towards this, 
it's our job as teachers to help others strengthen their spirit in whatever spiritual practice we are in, to always plant positive seeds and then feed them.

Lineage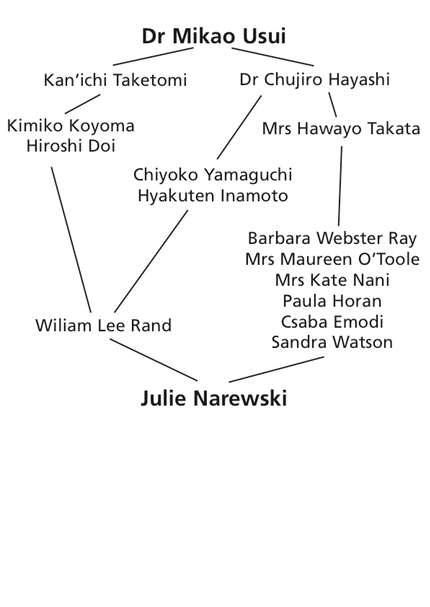 _________________________________________________________________________
TESTIMONIALS
"Trained by the best, amazing experience, loved every minute of it".
Kelly
"Thank you so much Julie for everything, it was a magical weekend".
Dezwartepearl
"We had an amazing time and learned so much. Looking forward to seeing you again soon".
Tracey
"Many thanks again for your great hospitality and the bespoke Reikitraining you provided. It really was a great time".
Colin
"I attended the Reiki levels one and two with Julie in October and found it to be one of the most moving experiences of my life. I previously knew nothing about Reiki, just had a sense that I would know how to do it with the right guidance. Julie provided a warm and inviting space to teach me the skills I needed. She is knowledgeable and kind, giving you just enough to begin but not too much to dull your own intuition. My instincts were honed and I felt very much and very quickly like I now had a way to contribute to the world in a meaningful way. The lessons were concise and hands-on. I learned an incredible amount in the three days we spent together. I have since been developing my Reiki work and have Julie to thank for opening up a sense in me that I never knew I had. I recommend the experience-Rob's food is wonderful. Since eating such clean and healthy food, I adopted a fully vegetarian lifestyle shortly after the course. (not quite vegan but working on it!)I slept in a room with a wood-burning stove and there was always more than enough coffee(very important detail!). I cannot recommend this enough- they are two of the loveliest people I have worked with". 
Erin
"I did all three levels of Usui Reiki with Julie some five years ago at her exceptional home in Competa. Excellent training in a wonderful sacred atmosphere, beautiful surroundings and views, and beyond kind support ever since. Their own home grown fruit and vegetables, cooked and presented beautifully by Rob, added to their very generous welcome made this a very special time in my life. Count myself blessed to know them both". 
Sheila 
"The Reiki 1 and 2 course that I did with Julie was an amazing experience for me. Julie is a very experienced and powerful healer and I could not have had a better teacher to learn from. On top it is such a peaceful place with beautiful surroundings, and I'll never forget the hospitality and the wonderful fresh food that Rob was cooking. I can highly recommend the courses, the people and the place".
Marlene 
_________________________________________________________________________
• Reiki Courses (see details above)
• Potions Workshops